Paddelboden - Guided Kayaking Tour to Kobba Klintar
Paddelboden will take you on a paddling from Lervik in southern Mariehamn to the old pilot station Kobba Klintar. The tour is suitable for both beginners and advanced paddlers.
The beautiful and spectacular Kobba Klintar with its pilot station and its sheltered Harbor is located right next to the major shipping lanes against Finland and Sweden. It is one of Åland musts when it comes to paddling. We gather at 10:00 in Paddelboden for overhaul of equipment, safety procedures and route before we paddle through the beautiful archipelago of Mariehamn. On Kobba Klintar we will stop for lunch and see the ferries pass through both sides of the islet.

Kayak, paddle, life jacket, spraydeck is included.

Location: Paddelboden, about 2 km south of Mariehamn centre.
Time: 10:00-17:00
Price: € 95/person including lunch
Number of participants: 4-16 persons

The tour runs every Saturday from 6 July until 31 August 2019 and is bookable until one day before the tour.

IMPORTANT INFORMATION:

We reserve the right to cancel the excursion due to bad weather. We also reserve the right to refuse participation if necessary, or if there are not enough participants (minimum 4 persons).

- if you are under the age of 18: a parental consent is required to be able to participate

- all participants in the activities arranged by Paddelboden needs to:
- have an accident insurance
- be sober
- be physically and mentally prepared for the event

Date

Time

Arena/Place

Saturday 24 aug 2019
10:00

- 17:00

Saturday 31 aug 2019
10:00

- 17:00
Street address 1
Lervik
Postal code
22100
City (address)
Mariehamn
Phone number (booking)
358 1814757
Phone number
358 4573433933
Website
http://paddelboden.com
Hotels
Distance: 2.6 km
Our hotel is situated right next to the shopping street in the town centre of Mariehamn. We are in walking distance from the harbours, the shops, night clubs and sights.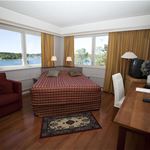 Hotels
Distance: 2.5 km
Hotel Adlon is our cozy family hotel in Mariehamn's western harbor, located close to the ferry terminal with walking distance from city center and sightseeing.
Bed & Breakfast
Distance: 230 meters
Pensionat Solhem offers an affordable stay close to nature and a beautiful sea view near the shipping town Mariehamn. The town centre is just 3 km's away.