Granbergs Gästhus
Address

: Käringsundsvägen 54, 22270 Eckerö
show map
Location:
Accommodation | You stay near Käringsund, idyllically located in the west on the coastline by the old fishing village. Here you can stay comfortable and all our houses are well equipped to a high standard. Choose from rural charm and high-class in a private beachfront location.
We have six cottages/houses with 2-9 beds in each, all fully equipped. In your immediate vicinity is a child-friendly sandy beach, many activities, game safari, small grossery, cafeteria and restaurants.
Compare "Granbergs Gästhus" with similar alternatives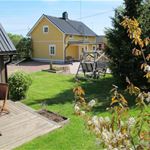 Welcome to our estate with a guest house, cottages, bakery and a café. We have a central location in Eckerö. Within walking distance you can reach a golf course, a family park with a restaurant, the local church and to a lake. There is a bus stop just nearby which can take you to Mariehamn, the city in Åland. We offer accommodation in 4 rooms in the guesthouse, or one of our 5 cottages om the property. Breakfast, linen, towels, cleaning and wifi is always included in the price. The breakfast is served in our pavilion next to the bakery, where we offer a good and rich breakfast of local products and freshly baked bread.
Bastö Hotell & Stugby is located in the middle of the beautiful Åland Islands. It is surrounded by warm sea gulfs, bathing coves and smooth red cliffs.
 Bastö Hotell & Stugby is near all the tourist attractions on the island, and there's a swimming beach only 100m away. The distance from the ferry terminal and airport to Bastö is 28 km. Individuals or groups, old or young, this is a place you cannot miss.